The Cacodemon Trap is a sigil tattooed on a Magician's back that binds a Cacodemon to them.
History
Graduation Gift
In a previous timeline, Henry Fogg brought the Fifth-Year students to an area below the cellar at Brakebills, beyond the school's Protective Cordon, where he tattooed the sigil on their backs before binding a Cacodemon to them.[1]
Fogg's Secret Weapon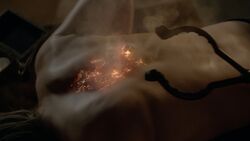 In the 40th timeline, to prepare Quentin Coldwater and his friends to face The Beast, Fogg and Professor Li bound a Cacodemon to his students before they traveled to Fillory.[2] During the Duel at the Wellspring, Coldwater released his Cacodemon to kill Alice Quinn after she became a Niffin, but later learned Quinn was instead bound to Coldwater when his Cacodemon couldn't kill her.[3] After realizing that holding a Niffin in his body was killing him, Coldwater attempted to restore Alice to a human but was forced to release her before they both died.[4]
Trivia
Margo Hanson and Quentin Coldwater are the only ones to show their trap after initially getting tattooed.
In The Magicians, the Trap is described as a five-pointed star tattooed in the middle of a Magician's back, but in the show, it's a sigil based on the name of the Magician.
References
Community content is available under
CC-BY-SA
unless otherwise noted.