The Questing Creatures of Fillory are seven unique and powerful creatures created by Ember and Umber.
History
Questing Creatures are 7 magical creatures created by Ember and Umber. They grant any wish to whoever is able to capture/corner them, though they cannot cross the boundary between life and death. Questing Creatures are required to grant the one who caught them a wish, otherwise they cannot rest.
Characteristic Traits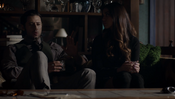 TV show Beast

Book Beast

The White Lady: A white doe that grants three wishes to whoever captures it.

Otter: An otter able to provide an object that brings you to Fillory (i.e. the button).

Rabbit: A messenger rabbit who announced her pregnancy to High King's wife (s02e2).

The Great Cock: The White Lady's brother. He can sense magical items across the worlds that would prove useful to whoever captures him.

Sir Effingham: Pig in a victorian attire, he bestows quest. 

Napster: Able to see the future, this cat-like creature goes in dreams to influence leaders or anyone that have historical importance to Fillory. She can only be caught in dreams.  (s04e08)

Lord Fresh: Half men, half frog (also called manphibian) he oversee all of Fillory fresh water and guardian of the birthright box of High King Margo (s04e02)

The Questing Beast/Winter's Doe: A white doe that grants three wishes to whoever captures it.

Seeing Hare: A hare that can predict the future of whoever captures it.

Great Bird of Peace: A large, flightless, cassowary-like bird that can stop fights with its presence.

Unseen Monitor: A large lizard that can, if they wish, turn a person invisible for a year.

Utter Newt: N/A

Kind Wolf: N/A

Parallel Beetle: N/A
Trivia
In The Magicians, the Unique Beasts were seven magical creatures in Fillory who each possessed a different ability. The Seeing Hare could predict the future, the Bird of Peace could stop any conflict, etc.
References
Community content is available under
CC-BY-SA
unless otherwise noted.