For other uses, see The Magicians (disambiguation).
SYFY's The Magicians, or simply The Magicians, is an American fantasy television series that airs on Syfy and is based on Lev Grossman's series of the same name. Michael London, Janice Williams, John McNamara, and Sera Gamble serve as executive producers. A 13-episode order was placed for the first season in May 2015, and the series premiered on December 16, 2015, as a special preview.[1]
The series follows the story of Quentin Coldwater and his friends as a loose adaptation of the original novels of The Magicians, The Magician King, and The Magician's Land.
On July 19, 2016, the DVD and Blu-Ray of season 1 were released.
On February 18, 2016, it was renewed for a second season,[2] which aired on January 25, 2017.
On April 12. 2017, it was renewed for a third season,[3] which premiered on January 10, 2018.
On February 28, 2018, it was renewed for a fourth season[4], which released on January 23, 2019.[5]
On January 22, 2019, it was renewed for a fifth season[6], which aired on January 15, 2020. On March 3, 2020, Executive Producers Sera Gamble and John McNamara announced that the fifth season finale would also serve as the series finale.[7]
Season Synopsis
Quentin Coldwater arrives at Brakebills University, a school dedicated to training Magicians. There, he and fellow students Alice, Penny, Margo, and Eliot hone their skills, test their mettle and form new (and often times, problematic) relationships, all while facing a dangerous and deadly threat from a magical world. Meanwhile, Quentin's friend Julia - rejected from Brakebills - pursues magic on her own down a dark, often dangerous, path.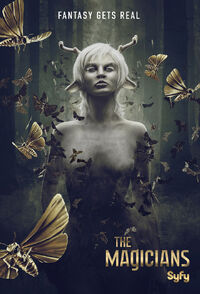 Magic is dying. With our characters transported to the magical kingdom of Fillory - and named Kings and Queens of the land to boot - can they save magic? Oh, and there's still the Beast to deal with, don't forget. Meanwhile, Julia is on a no-holds-barred revenge quest against the evil God that attacked her.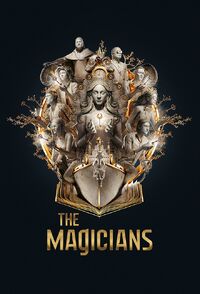 Magic is dead, so our team of intrepid Magicians must embark on a series of quests to find seven keys that will restore enchantment to all worlds. Also amid this chaos, the threat of losing their crowns loom as Eliot and Margo battle angry Fillorians and merciless Fairies who are tired of being ruled by children of Earth.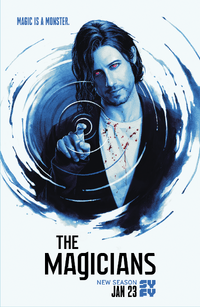 To be added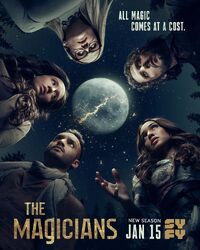 Last season, magic was saved, but at a terrible cost: the life of Quentin Coldwater, who died heroically to save his friends— and the world. Julia, Alice, Eliot, Margo, Penny and their friends (and frenemies) must learn to navigate a world without him. Now, a new threat has arisen: in freeing magic, the balance tipped the other way and there's too damn much of it, and as the excess builds, an apocalypse looms. Can the magicians get their shit together to save the world without Q?
Cast
Main Cast
Recurring Cast
Episodes
Production
Development
The show was originally planned for FOX, but on February 2012 the adaptation was announced to be canceled. In 2014, SYFY announced it would be producing an hour-long drama adaptation of the novel. The pilot was greenlit on July 9, 2014,[8] and officially ordered to series on May 4, 2015.[9]
Sera Gamble, former Supernatural showrunner, and In Plain Sight's John McNamara are on board as executive producers and writers for the project. On September 2, 2014, it was announced that Mike Cahill was tapped to direct the pilot.[10]
On December 3, 2014 Jason Ralph and Sosie Bacon were announced to play the roles of Quentin Coldwater and Alice Quinn respectively[11] but Sosie was eventually replaced by Olivia Taylor Dudley on August 5, 2015.[12]
In order to show the complex and intricate hand movements used to cast magic, Paul Becker and Kevin Li were brought as choreographers to teach the cast finger tutting.[13]
Filming
The pilot, entitled "Unauthorized Magic," was shot in New Orleans in December 2014[14] with the rest of the episodes filmed in Vancouver in July 2015.[15]
Second Season
A second season was announced on February 8, 2016. The show returned in 2017 and featured 13 episodes.[16]
Third Season
A third season was announced on April 12, 2017. [17]
Fourth Season
A fourth season was announced on February 28, 2018.[18]
Videos
Trivia
References
Community content is available under
CC-BY-SA
unless otherwise noted.